Buy Now Pay Later Options – Jim's Pay Plan
Do you want a jumping castle at your next party or event, but do not have the finances to pay now? We now have convenient buy now pay later options called Jim's Pay Plan.
Buy Now Pay Later (BNPL) services are becoming the norm and Jim's wants to make it as easy as possible to get a jumping castle at your next event. To that end, Jim's payment plan allows you to pay with convenient, interest-free, fortnightly payments so you can make your next special occasion a memorable one.
Using Jim's Pay Plan means that you can also now afford to hire other items to make your event an unforgettable one. For example, you could combine a jumping castle hire with a slushy machine, popcorn maker, fairy floss machine, and even a professional-grade coffee machine.
With Jim's Pay Plan, you no longer need to save up to pay in one lump sum on the day of your event.
What are our
buy now pay later options

payment plan system?
Using Jim's Pay Plan means that you can now afford all of the other products and services provided by the Jim's Group, not just pest control. This negates the need for you have to save your $$ over time, or paying in one lump sum now.
With Jim's Pay Plan, you can take control of your payments and manage them all in one place. We can provide finance for your all of your Jim's services via this simple "buy now pay later" payment plan service. Obtain instant approval and start shopping now. There are flexible payment plans which you can control that are easy to set up, all managed by our app.
Get now, pay later, and never pay interest
Use Jim's Pay Plan to pay for all of your party hire requirements with convenient fortnightly payments.
Jim's Pay Plan is not limited to just party hire
Once you are approved with Jim's Pay Plan you can purchase other services using the same payment process. You may choose to have your home cleaned or lawns cut for your special event. You may even choose to have some pest control services performed. All of this can be done using Jim's Pay Plan.
Please go to jims.net to see what other services you can get with Jim's.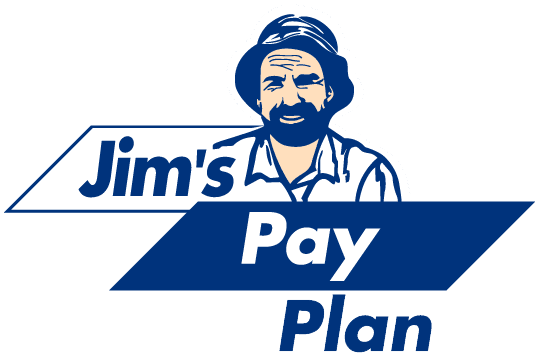 *Fees, terms, conditions & minimum finance amount of $100 applies to a maximum of $7,500.
Openpay funds up to $7,500 transactions. Purchases of up to $1000 for a maximum term of 4 months. A 20% deposit is required along with a direct debit fee of $2.50 per fortnight. Transactions from $1000 to $7,500 is a 12-to-24-month term with a 10% deposit, establishment fee of $50 applies, and a $3.95 direct debit fee per fortnight. For all terms and conditions, visit openpay.com.au.