Castle Hygiene – COVID-19 Policy
At Jim's Jumping Castle & Party Hire, we are concerned about our clients' welfare. Therefore, we have taken extra precautions on every jumping castle hire.
To find out more please call your local Jim's business owner on 131546.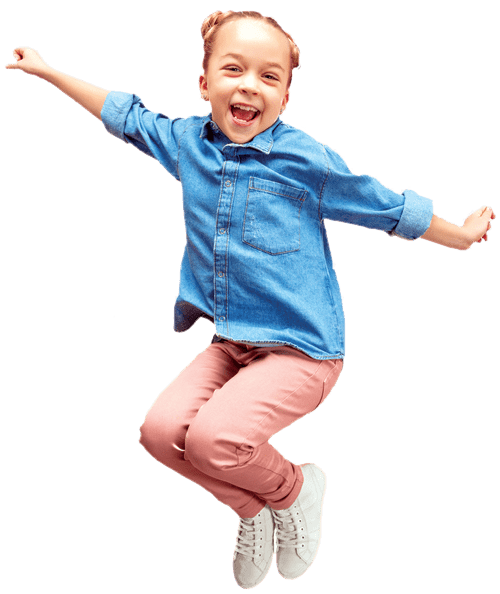 In 2020, the world changed when coronavirus became a world-wide pandemic. It has made many of us reconsider how we operate our businesses, and how we do things in our daily lives.
For example, going to large, crowded play cafes is even more stressful now we are living with coronavirus. Smaller private gatherings are becoming the norm everywhere.
When selecting a bouncing castle provider, it is important to ask what hygiene measures they have in place for your safety and the safety of your children.
Making your party experience COVID-19

safe
Making COVID-19 safe environments is an important part of our daily lives. At Jim's, we understand this and it is why we have a strict cleaning process we follow with every jumping castle hire.
When our staff member arrives on site they will go about setting up and inflating a clean jumping castle for you. While this is occurring, we ask that all jumpers remain off the castle.
Following the set up, we will hygienically clean the castle before it is used. This is done by spraying or misting the jumping castle with an antibacterial product. Once the surfaces are dry it is ready to be used by your jumpers.
To be extra safe, after the castle is used it is cleaned and treated again with the antibacterial product.
Our policy makes Jim's Jumping Castles one of the safest inflatable castles to use.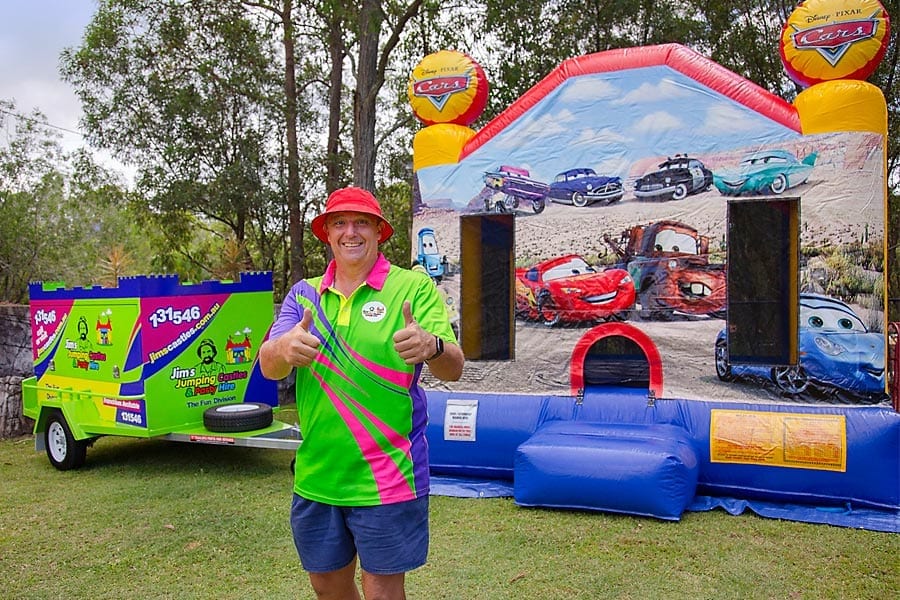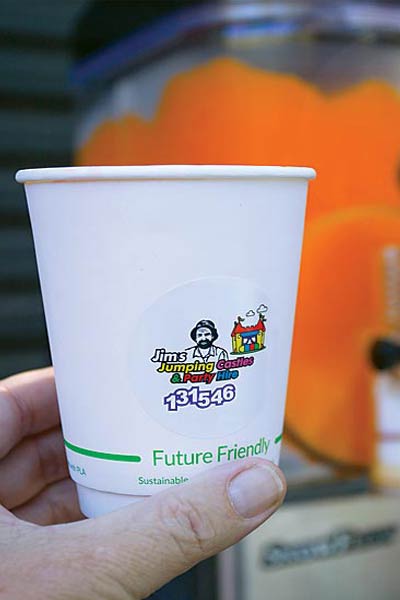 There is nothing worse than trying to keep track of who drank out of which cup. It is an almost impossible task.
To make it easier for you to keep track of everyone, Jim's Jumping Castle and Party Hire provide disposable drinking cups. Each jumping castle hire comes with 20 free Jim's branded cups. These biodegradable cups can be written on with a marker or pen.
Simply write the person's name in the space provided. E.g., "Jumping Pheonix" or "Jumping Sarah".
Naming them makes it easier to keep track of each person's own drinking cups.
At the end of the event, you can simply throw the used cups into a green waste bin as the cups we use are biodegradable and compostable.
Cups for
lolly bags,

coffee,

slushies

and

fairy floss
When hiring slushy, fairy floss, popcorn, and coffee machines, we can provide all the cups you need. Because we buy in bulk, the costs of providing these quality cups is quite inexpensive.
As with all the cups we provide, they are biodegradable and able to be written on. This again ensures that no one will get upset that someone has stolen their goodies.
If you intend to provide your guests with a lolly bag, we suggest you purchase some extra cups. Our cups are a more environmentally friendly option rather than plastic bags. Once the lollies are eaten, the cups can easily be thrown into the green waste bin and composted.